I'm so excited..... my first finish of 2014 ... Renato Parolin "Easter"
Not sure why my camera is adding a red tint - I tried taking the picture in several rooms on several surfaces - always the red!! grrrr To get the whole picture in you have to be pretty far back so I added two close up pictures too!! Isn't it lovely? I almost ran out of 523 so it's the last color I did last night - when it was done all I had left was two strands about 18 inches long - whew!!!
I have been a dreadful person - by forgetting to tell you that my lovely friend Chiara from
The Grey Tail
sent me a Renato Parolin postcard for Christmas - I was going to take a picture of it but it's a pattern so I don't want to violate any copyright laws. The post card is Nel Regno Silenzioso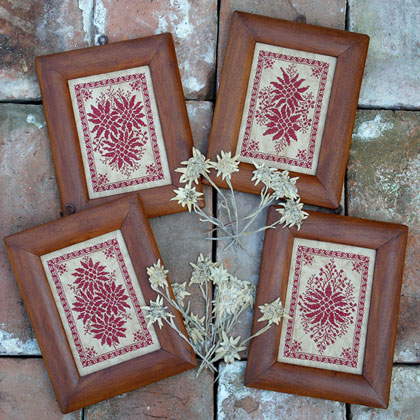 I took this picture from the internet - it's the one with three flowers - isn't that wonderful!!?? I think it's a
brilliant
idea to do pattern post cards!!! Thanks sooo much Chiara!!
My next project is - sheeeep ugh!!! The last of the 12 LHN Virtue sheep. I hope to be done with that in a week's time. My intention is to only do WIP's until they are all done but we shall see how many new patterns trip me up.
I also forgot to mention that Ryder made it to Santa Fe NM - to the college he is going to. His roomie is Columbian - how cool!! He started classes just this week so it's going well so far!! We are so proud!!
Today is the best I've felt in two weeks - still have a headache and congested a bit - but better. What a horrid virus this is!! It is so cold in Indiana today - what a crazy winter this state is having!!
Well I have to get to the grocery store and get some laundry done!! Thanks for stopping by! Hope you all have a wonderful weekend - stay warm!!