I have a finish – yes, I left off one of the hives.
I just didn't like the third one – too crowded and the pattern of the hive too crazy. I had so much trouble with this pattern – frog on my back haha. You can't go an inch without an error – I don't know why I had so much trouble but it sure drove me crazy!! It will be awhile before I can finish it – of course I will show it when it's done! I also made the Prairie Schooler mini card freebie – I will be making it into a necklace - I found a great "time piece" to use!!
I am back to Renato Parolin's Noel – I believe I mentioned how big they are!! Here is mine so far...
the N is done - I work on the O at work and the E at home!
Ugh the wrinkles are awful!! After doing the witch on 40 count – over two and the bees on 28 count - over one, these stitches are HUGE!! I feel like I am doing beginner stitching! I wish I had used a smaller count. I have one done, one almost done and one I have started the border on (there are 4) so I won't be starting over. Renato Parolin just came out with some new patterns
Bush Mountain
carries them – I ordered
Anterselva di Mezzo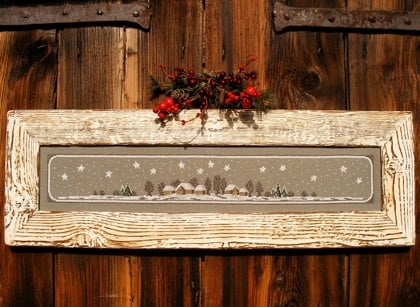 picture off the internet!!!
LOVE IT – can't wait to get it in!!
That's all the stitchy news for now- hope you find a Renato Parolin to stitch!! Thanks for stopping by!!